Willings vast knowledge of coin handling equipment has enabled us to design various coin payment solutions (CPS) for pedestrian and vehicle applications.
These systems have been developed to enable system integrators to build their own coin operated pedestrian or vehicle access solution.
All our control systems can be supplied separately and configured to interface with most makes of physical access control equipment.
If required we can also fit these components into one of our own standard or bespoke housings.
Our skilled and dedicated workforce has an innovative approach to problem solving and the enthusiasm to find the best technical solution for each application.
So if you cant see what you are looking for then why not give us a call.
Coin operated pedestrian applications.
Our Revenue Collection Pods (RCP) have been designed to work in conjunction with all makes of full height turnstiles, tripod turnstiles, paddle gates, speed gates, retractable leaf gates, swing gates and automatic doors.
Coin operated vehicle applications
Our Parking Machine Controller (PMC) has been designed for variable or fixed fee vehicle applications.
Coin Payment Solution (CPS)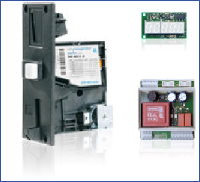 If you think we can help with your project than please contact:-
Mr Nigel Port
telephone:
01264 334786
email:
Workshop@willings.co.uk